Beach Wedding Planner in Goa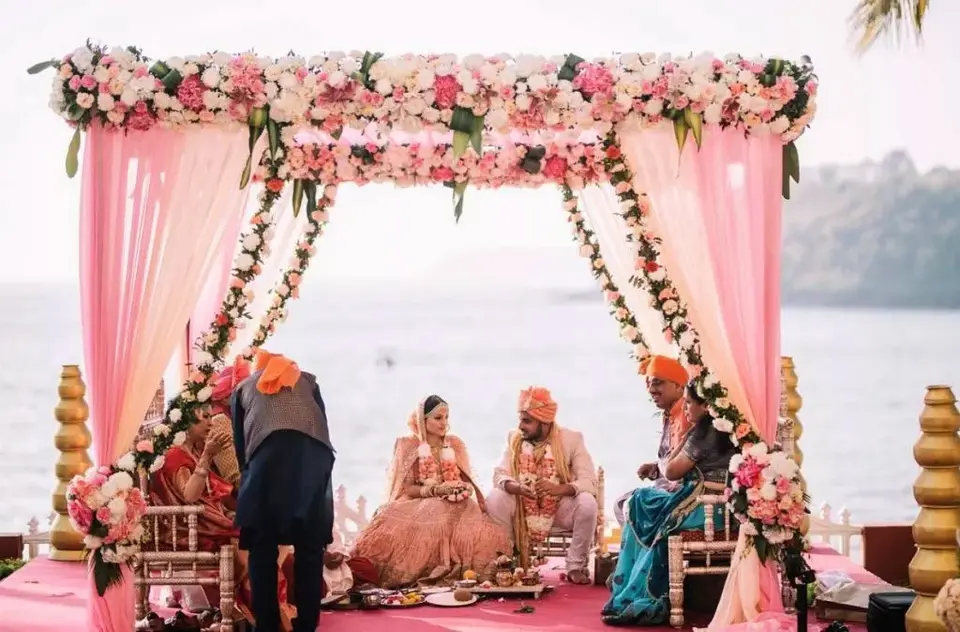 Plan Your Luxurious Destination Wedding in Goa
Goa is considered one of the most beautiful places in the world for a destination wedding. In addition to delicious seafood and gorgeous beaches, Goa offers a perfect venue for a wedding. It is right to call Goa the destination wedding city. Aren't you excited to plan a wedding in Goa? Many couples have a dream to get married through a destination wedding in Goa. Now, it's time to get your excitement to the next level. BADHAI HO EVENTS is providing its top-notch wedding arrangement and planning services in Goa.
Trust Our Award-Winning Wedding Planning Service in Goa
Give Your Wedding A Different Look With Destination Wedding Planner in Goa
Besides insanely beautiful beaches, Goa has a lot more to offer to everyone. This has created an interest among the younger generation and they want to get their destination wedding to the next level. So, they are choosing Goa for their destination wedding. This is a location which is nothing less than magnificent. It is a prime reason for couples to select a beach wedding planner in Goa. Since Goa is famous for its beautiful beaches; therefore, beach weddings are popular there.
BADHAI HO EVENTS provides outstanding wedding planning and services in Goa. Moreover, these services are available at a much lower cost than other wedding planners' fees. A couple or couples' family can choose venues in Goa from the vast list of all available venues with BADHAI HO EVENTS.
Goa is a perfect location for a destination wedding because it has remarkable hotels, luxurious resorts, lovely beaches, and historical monuments. However, it is quite expensive if you go there to shop for your wedding. Not only the prices; but also it is hard to find a suitable seller there. Therefore, anyone going for a destination wedding in Goa should consult an expert wedding event management company.
Here, BADHAI HO EVENTS is one of the leading companies offering its marvellous service at an affordable price. With BADHAI HO EVENTS, you will get an option to customize your wedding planning packages and choose the best one. As a wonderful beach wedding planner in Goa, we offer our service by considering your venue, guest accommodation, decoration, and entertainment requirements.
We have a team of creative, talented, and versatile individuals to plan and arrange your wedding perfectly. Making your wedding day memorable is our speciality and we have expertise in it. We are recognized as one of the leading wedding planners in Goa. Knowing the importance of your wedding day and its precious memory, we offer our top-notch services to all.
World Class Wedding Planning Service
BADHAI HO EVENTS is a leading wedding planner throughout India. With the trust of many, it is planning and arranging their wedding according to their budget. BADHAI HO EVENTS concentrate completely on providing 100% customer satisfaction. We can make your destination wedding in Goa memorable with our exclusive services and are ready to assist you.
When you have a destination wedding in Goa
Undoubtedly, Goa is one of the perfect locations for your marriage and anyone can choose it for the beauty of its beaches, historical cities & monuments, beautiful places to visit, etc. BADHAI HO EVENTS is one of the leading wedding planners in Goa offering its services at a reasonable price.
Frequently Searched Queries
Yes, it is always cheaper to use the services of a wedding planner in Goa. It will help you to arrange your wedding at the lowest possible cost. From printing wedding cards to vidai of dulhan, a wedding planner uses its expertise and provides you with a lot of tips to save money. In addition, it will also help you by helping you to shortlist the venue that comes in your budget.
BADHAI HO EVENTS is one of the leading wedding planners providing its services in Goa. With a team of talented and creative individuals, BADHAI HO EVENTS will help you to turn your dream marriage into reality. These services are essential to ensure that there should not be any flaws in your wedding in Goa. Moreover, BADHAI HO EVENTS is famous for providing the best-in-class wedding planning and arrangement services at an affordable cost.
Yes, destination weddings in India, especially in Goa are cheaper than normal weddings. Destination weddings usually cost more or less the same as a normal wedding. In fact, a destination wedding in Goa is cheaper than a normal one. Wedding planners in Goa, like BADHAI HO EVENTS, also provide wedding planning services at a reasonable price.
Yes, BADHAI HO EVENTS provides all customers with an opportunity to customize their wedding packages and destination wedding cost in Goa. It may sound silly; however, it is one of the most useful options for customers. It can help customers to arrange a wedding budget according to their pocket.